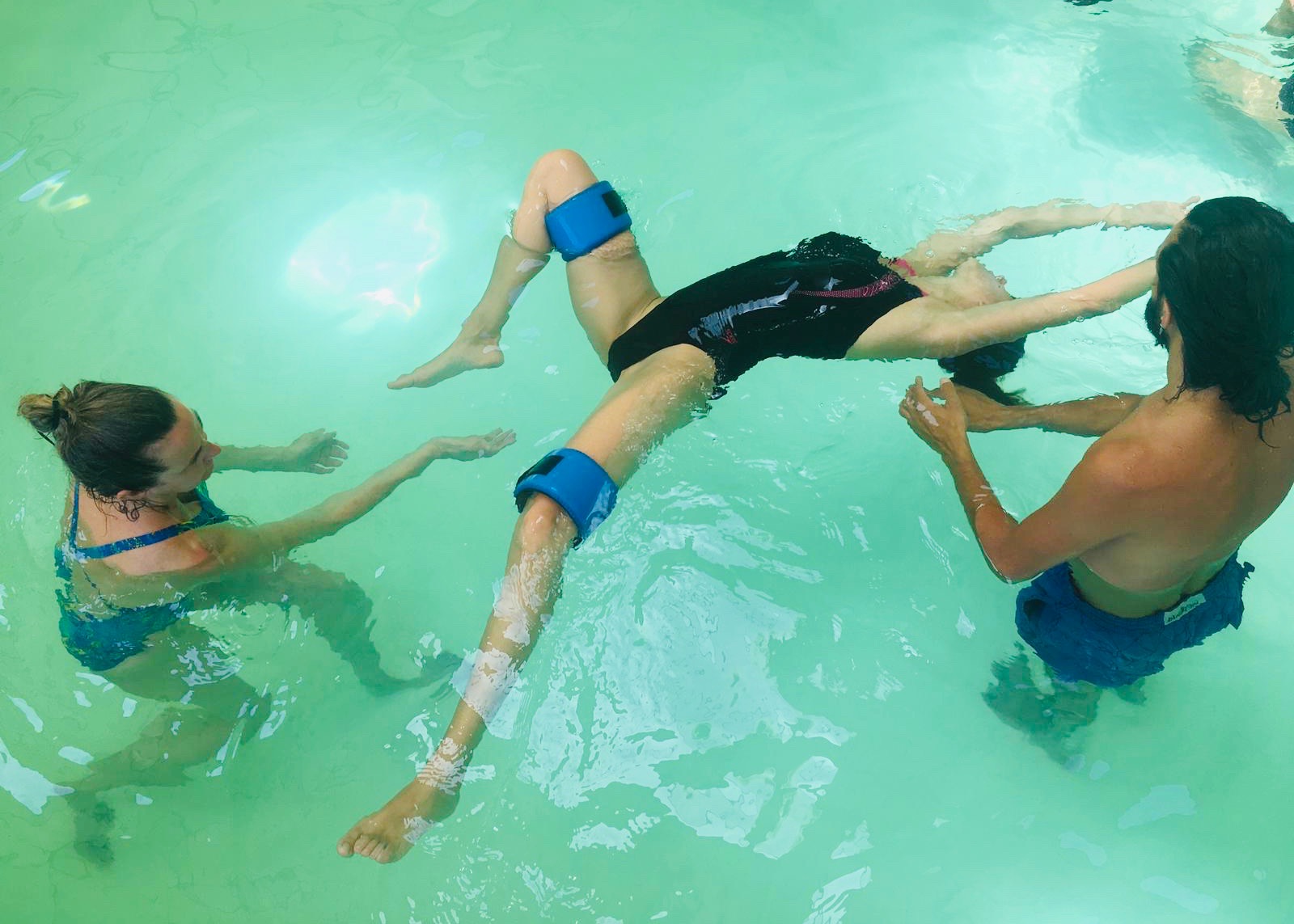 Le Miel et L'Eau
Sunday 18.07 – Friday  23.07.2021
5 days of "WATERNESS" training and somatic work
Study of the flotation technique and massage on the surface and underwater 'Waterness Journey ™  and somatic investigation including free movement, Contact Improvisation, Yoga and breathing exercises.
"WATERNESS" 50 hours accredited with Watsupath™ Training Institute http://watsupath.com and Worldwide Aquatic Bodywork Association W.A.B.A. http://watsu.com for the professional training in Watsu®
Waterness Journey ™ is a modality, with specificity on the techniques of underwater work and three-dimensional massage, offering the possibility for the recipient to enter into an interactive movement.
As future professionals or beginners in water treatments, Waterness™ brings you valuable tools thanks to its detailed technique that we practice extensively, and the integrative processes to respond in real time to a pro active receiver.
Inside our bubble of nature, in Le Miel et L'eau, I propose to you before breakfast, to practise together soft yoga postures and to use mental concentration exercises (meditation, pranayama, Mudras and visualisation) in order to keep a more refined presence throughout the day of learning.
Stretching the body, breathing while being aware of the impact on our energy channels, on our ability to communicate from the non-verbal towards words. Not only do we build new networks of experience in the body, but we also provide a new nervous balance, indispensable for assimilation when we exchange and learn all day long together in the water.
The somatic work (contact dance, proposal of free and directed movement) completes this legibility between the qualities of the water element and the properties of the earth, with a playful approach that favours the integration of the content of the training.
Course content
EARTH ELEMENT :
Morning yoga practice proposal: Asanas, breathing, visualisation & mudras.
– Contact-Impro and movement
– Spaces for somatic practice dedicated to the exploration of improvisation and self-developpement – individual and group research.
– Somatic work on land to move on to work in water.
WATER ELEMENT :
– Synchronisation of breathing and movement to coordinate immersion.
– Studies of surface expansion and compression movements, work underwater (inversions, movements with changes of direction, centripetal and centrifugal movements).
– Practice of massage, deep stretching, release points and mobilisation with a spherical 360° approach.
– Work on the forces at play to apply acceleration and deceleration
– Create a safe position for the receiver and a healthy posture for the donor.
– The water creates a space for observation and facilitation of spontaneous movements, and potentiates the interaction between the giver and receiver as partners in play.
– Practice spaces dedicated to the exploration of real-time improvisation in the water and review of the technical content of the daily course.
Sunday 18.07.2021 – arrival 6pm
Friday 23.07.2021– 6PM (Courses end)
PRICE: 610€ (your stay at the Miel et l eau, Food and travels are not included in this price)
Early bird discount: 15% 518€
Pool fee is 30 €/day
AUDIT : 30% discount on the full price
INFORMATION & REGISTRATION E-Mail : info@sophiecostes.com
cellular: +34 697 914 007