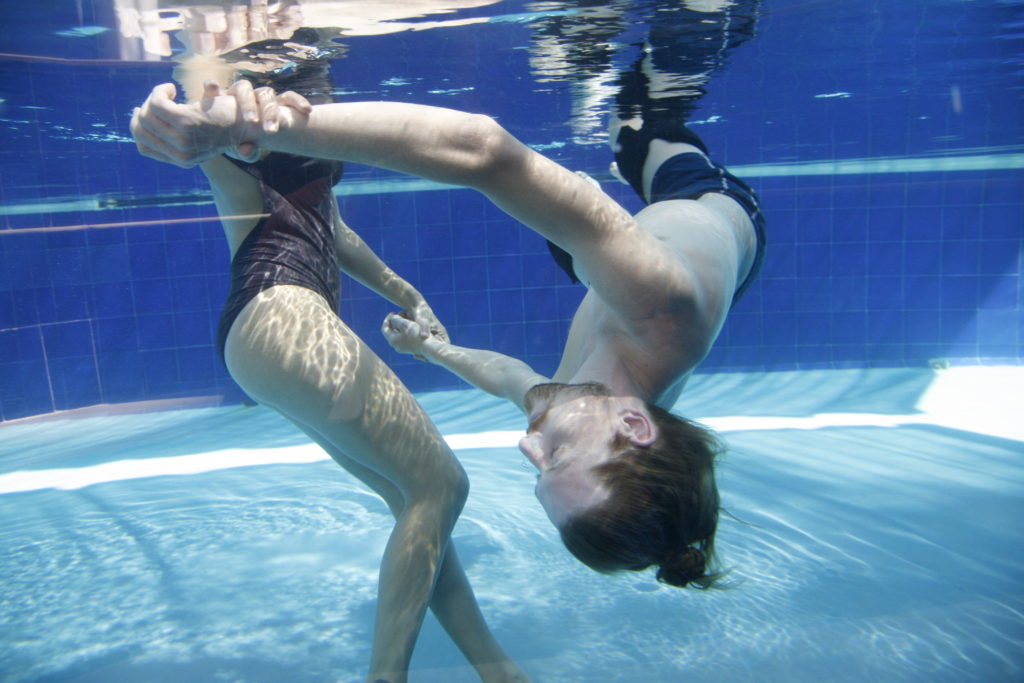 to come in 2024… 
(50 hours credit hours with Watsupath™ Training Institute https://watsupath.com and Worldwide Aquatic Bodywork Association W.A.B.A. http://watsu.com for the professional training in Watsu®)
COURSE CONTENTS
Waterness Journey™ is a modality of underwater bodywork techniques and three-dimensional massage, which offers the possibility for the receiver to enter an interactive movement.
As beginners or future practitioners in water therapy, Waterness™ brings valuable tools through its detailed technique that is practiced abundantly, as well as integrative processes to be able to respond in real time to a pro-active receiver.
Before starting long hours in water where we gradually study the massage, the immersion technique, the rotating forces in water, the response in 'real time' within the interactivity etc…, we practice together gentle yoga postures and use mental concentration exercises (meditation, pranayama, Mudras and/or visualization) to maintain a more refined presence throughout the learning day.
Stretching the body, breathing while being aware of the impact of the energetic stimulation, not only gives us new experiences on a bodily level, but also supports a nervous and neuronal balance which is essential for the assimilation of the aquatic workdays.
In the afternoon, we combine the technical teaching with somatic work (contact, free and directed movement proposal) which completes this legibility between the qualities of the water element and the properties of the Earth, with a playful approach that favors the integration of the training content. We return to water with more clarity about ourselves, the relationship between gravity and suspension.
PROGRAM
EARTH ELEMENT:
Free movement and Contact.
Somatic practice spaces dedicated to the exploration of improvisation and self-awareness – individual and group research.
Somatic work on land before moving on to work in the water.
WATER ELEMENT:
Synchronisation of breathing and movement to coordinate immersion.
Study of surface expansion and compression movements, underwater work and inversions, movements with changes of direction, centripetal and centrifugal movements.
Practice of massage, deep stretching, release points and mobilisation with a 360° spherical approach.
Work on the forces at play to apply acceleration and deceleration.
Creating a safe position for the receiver and a healthy posture for the giver.
WHEN
REGISTRATIONS 
Places for this course are limited to six participants.
FOR FURTHER INFORMATION,  for discounts and reductions…
PLEASE CONTACT:
Watsupath™ Training Institute
Cellular: +34. 667.437.941
E-mail: info@watsupath.com