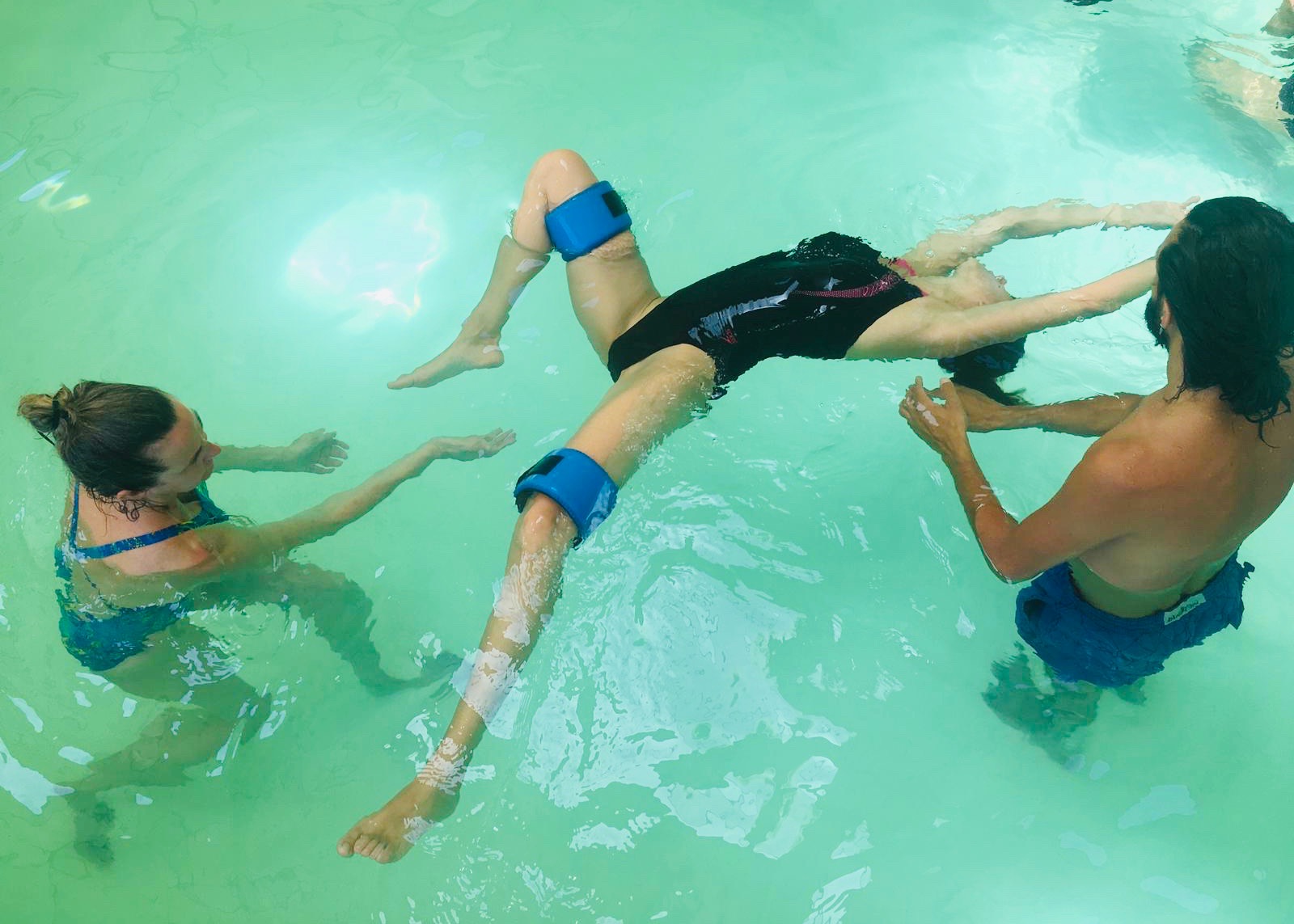 Le Miel et L'Eau
Sunday 18.07 – Friday  23.07.2021
5 days of "WATERNESS" training and somatic work
Study of the flotation technique and massage on the surface and underwater 'Waterness Journey ™  and somatic investigation.
"WATERNESS" 50 hours accredited with Watsupath™ Training Institute http://watsupath.com and Worldwide Aquatic Bodywork Association W.A.B.A. http://watsu.com for the professional training in Watsu®
Waterness Journey ™ is a modality, with a specificity on the techniques of underwater and three-dimensional massage, offering the possibility for the receiver to enter an interactive movement.
As future professionals or beginners  in water, Waterness™ provides you with valuable tools through its detailed technique that we practice extensively during the stay, and the integrative processes to be able to respond in real time to a pro active receiver.
Inside our nature bubble, at Le miel et l'Eau, I propose within the aquatic training, to integrate somatic practices such as TCI, gentle yoga postures, mindfulness exercises to maintain a more refined presence throughout the teaching day.
By stretching the body, breathing and being aware of these impact of energy stimulation, we offer new experiences at a bodily level, supporting a nervous balance and neural circuitry fundamental to the assimilation of the aquatic work days.
Course content
EARTH ELEMENT :
– Asanas & breathing exercices
– Contact-Impro and Authentic movement
– Spaces for TCI practice dedicated to the exploration of improvisation and self-developpement – individual and group research.
This somatic work serves as a transition to water work.
WATER ELEMENT :
– Synchronisation of breathing and movement to coordinate immersion.
– Studies of surface expansion and compression movements, work underwater (inversions, movements with changes of direction, centripetal and centrifugal movements).
– Practice of massage, deep stretching, release points and mobilisation with a spherical 360° approach.
– Work on the forces at play to apply acceleration and deceleration
– Create a safe position for the receiver and a healthy posture for the donor.
– The water creates a space for observation and facilitation of spontaneous movements, and potentiates the interaction between the giver and receiver as partners in play.
– Practice spaces dedicated to the exploration of real-time improvisation in the water and review of the technical content of the daily course.
Sunday 18.07.2021 – arrival 4pm
Friday 23.07.2021– 4PM (Courses end)
PRICE: 610€ for the course (accommodation, meals and travel are not included in the price)
Early bird discount before May 17th: 15% 518€
AUDIT : 30% discount on the full price (not culmulative with Early Bird)
Information and booking DIRECTLY with Alycia at Miel et l'Eau, centredebienetre@lemieletleau.fr and by going to the link: https://lemieletleau.fr/wp-content/uploads/2020/12/Tarifs-groupe-2020.pdf
Orientation of the rates for your stay at Le Miel et l'Eau: Rates between 20€ (shared / one room at 100€ per night / max 5 people) and 70€ (single room) or 80€ (for a couple)/ per night.
Pool fee is 30 €/day or a total of 150€ for your entire stay
Meals 30€/day: break fast, lunch and diner, cooked by amazing Vegetarian & vegan cook. 
INFORMATION & REGISTRATION E-Mail : info@sophiecostes.com 
cellular: +34 697 914 007